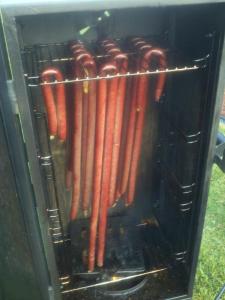 Venison Snack Sticks
15# of fine ground Venison
6 Tablespoons of canning salt
1-1/2 Tablespoons of Tender Quick®
1-1/2 Tablespoons of Accent® seasoning
2 Tablespoons of Garlic Powder
2 Tablespoons of granulated Garlic
5 teaspoons of cayenne pepper powder
4 teaspoons of Black Peper
15 Tablespoons of water (1 Tablespoon short of 1 cup)
Recipe suggested instructions.
Combine the salt, Tender Quick® and Accent® with the ground deer meat. Knead the meat thoroughly to mix in the salt mixture. Place the meat in the refrigerator for two days, mixing well twice each day. Before mixing for the last time, add the remaining ingredients. (For dehydrator use add 6 Tablespoons of Liquid Smoke) form into 2" diameter discs about ½" thick and dehydrate.
MY INSTRUCTIONS
Combined all ingredients in a large container. Lightly sprinkle dry ingredients over as you mix to avoid clumping and uneven distribution. MIX well….when you think it is enough…mix more. Using a sausage stuffer or stuffing tub on a grinder stuff mixture into 19mm or 21mm collagen casings (not the brown ones) the 21mm casing take more time in the smoker. DO not try to mix the two sizes in one batch. Avoid having casings touch in the smoker. I was using a Propane smoker.
Set smoker to 150 and open vent. Place sticks in smoker for 1 hour with no wood added. Should about make the casing feel tacky to the touch. I added Mesquite chips at this point increased the smoker temp to 170 and left them in until they were done. I like a smoky flavor. The overall time in the smoker was about 5-1/2 hours for the 19mm and 7 hours for the 21mm sticks. I didn't use a thermometer. I smoked until they were firm and snapped when bent. I don't like mushy snack sticks but I don't like tree twigs either. For a lighter smoky flavor keep chips in for first half the time at 170 degrees. Also other woods like Hickory (heavier smoke flavor) or Apple and Cherry (lighter flavor) will work too. This fall I am going to do a recipe that uses Maple wood and adds Maple syrup to the mix.
After cooling cut to desire length. I vacuum seald in packages 6' long and 8 sticks in each. THen into he Freezer.
TIPS
Cool at room temp (DO NOT COOL IN THE FRIDGE It will cause condensation and introduce moisture to the sticks).
I was on a schedule but I would have like to let the mixture sit in the fridge overnight prior to stuffing to let the ingredients settle throughout the mix.
Have a 3/8" stuffing tube for both casings. The 21mm just make it on the ½" tube and it isn't fun. The 19mm will not make it on a ½" tube. We had to hold the 19mm casing in front of the ½' tube and it was a 3 man operation.