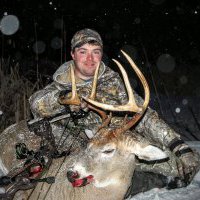 ---
Similar Content

By doebuck1234

Maybe im jumpin the gun a bit quick but.....
As the 2019 deer season is coming fast and the live from the woods thread is going to light up like a christmas tree(better train this kid at work fast so i can follow up on all the deer porn)...The quickly approaching season has got new topics popping up and me getting antsy sooo......
Is there anyone with a new approach to this years season different from the past?
Different preparations for the season,etc.
Accomplishment's/goals you are shooting for in the 2019 season?
Shorter/longer sits etc.
 
A few of mine..
1.Prep by shooting as much as possible
2.Spend as much time as i can in my "happy place"(always been my peaceful place)
3.Get my first mount done so i can hang it on the wall at the first house(bare spot!)
4.Get neccessary equipment for processing my own deer in the garage(needs a good cleanin before opening day!!)
5.See the smile on Jay's(turkeyfeathers) face with his first bow harvest!!!!
6.Be blessed and thankful to be able to spend time in the great outdoors.cherish every moment of the woods coming alive at day break(g/f doesnt understand it!!!)<<but im ok with that
This year has flew by and season will be here before we know it.This post is a bit early but im pumped and ready for some woods time!!!!




By CrossOvertheRiverOutdoors

Hey everyone please check out my new video! A couple weeks ago I went down to Florida to hunt Osceola turkeys at a friend of mines place. I gotta tell ya, it was the most exciting and most fun turkey hunt I've ever been on! Not to mention is was in the 70s down there while it was snowing at home lol. Please watch the video and share it! Warning, the footage may be shaky and a little out of focus at times. My camera man was having a hard time getting a clear view of these birds. I hope ya'll enjoy the hunt and please subscribe to my YouTube Channel, Cross Over the River Outdoors! God Bless! 
 
 


By CrossOvertheRiverOutdoors

Hey everyone! I'm Louis Backlas, and I'm from Wyoming county N.Y. This past fall I entered the largest deer hunting tournament the hunting industry has ever seen. The Bone Collector North American Whitetail Championships. In this tournament, there was 14 different regions in the United States. Region 1 being New York, New Jersey and Pennsylvania. Winners of each region qualify for a hunt in Kansas at Wicked Outfitters and will have a chance to win $50,000. I was blessed to be the winner for region 1! Pretty Excited here about this! I wanted to invite all of you N.Y hunters to watch my latest video that was uploaded to my YouTube Channel, Cross Over the River Outdoors. In this video, I will take you on the hunt that qualified me for the championships in Kansas coming this September! After watching the video, Please give my YouTube channel a follow and you can also follow me on Instagram and Facebook @ Cross Over the River Outdoors! Send some prayers my way ya'll! Thanks and God Bless!
 


Recently Browsing

0 members

No registered users viewing this page.