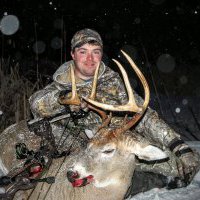 ---
Similar Content

By PublicLandOwner

Anyone here a memember of a green island or any other rod and gun club in the capitalist district with access to private hunting grounds they can recommend?  it doesn't have to be a large area..
I've been hunting about 6 seasons now,  and am looking to get more involved in the hunting community. (It's never been a tradition in my family I had to teach myself a lot the hard way,) more importantly I'd like to teach my son what I've learned in the field and save him some mistakes later but I worry about other public land hunters in the area.
The amounts of bullet holes and shells in areas paint a pretty clear picture about who frequents them. I have land 2.5 hours away in smithville, it doesn't work for a day trip with my son but we visit about 2 times a year. 
Any recommendations folks? 


By CrossOvertheRiverOutdoors

Here's a New York turkey hunt that should get your blood flowing! Hope ya'll enjoy my newest episode! If you like what you see, please subscribe to my YouTube Channel! Cross Over the River Outdoors! #ItsHuntingTimeOlBuck #Ozonics #DeadRinger #Tactacam #NewYorkTurkeyHunt #huntingvideo
 
 


Recently Browsing

0 members

No registered users viewing this page.