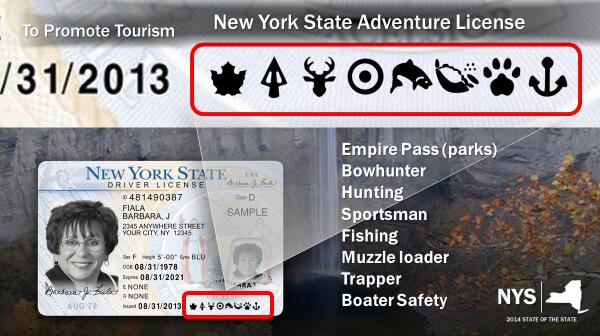 Under Cuomo's plan, those who own hunting and fishing permits, a boating safety certificate or certain state park passes will be able to list them on their driver's license, eliminating the need to carry multiple documents, Cuomo administration officials say.
The program, known as the New York State Adventure License, would be optional and open only to those who buy "lifetime" sporting licenses or passes, not those with day or annual permits. Sportsmen and women could add an inscription noting their various permits on their driver's license when they renew with the Department of Motor Vehicles.
Source: http://www.lohud.com/article/20140107/NEWS05/301070047/Cuomo-aims-add-hunting-fishing-permits-driver-s-license
Source: https://twitter.com/NYGovCuomo/status/421001121360932864/photo/1
Some more discussions on our HuntingNY forums here: http://huntingny.com/forums/topic/21042-what-the-heck-is-this-cuomo-we-propose-1-stop-shop-licensing-a-nys-adventure-license/
Update more here: http://www.dec.ny.go...rmits/6099.html
New lifetime sporting license purchasers can opt to have icons added to their NYS Driver license when you purchase your lifetime sporting license. You may choose to get your new DMV ID immediately, for a fee of $12.50, or wait for your next license renewal at no charge.
If you already have a lifetime sporting license, you may login into the Online Sporting License Sales System, as of Feb 1, and request a new driver license or non-driver ID with your lifetime sporting credentials.