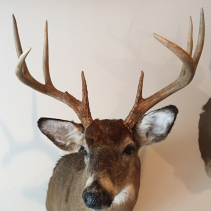 ---
Similar Content

By Padre86

All right, so I'm new to hunting Turkey.  I've spent the last 2 weekends up in the Adirondacks looking for them.  I see these things all along Rte 28 during my numerous drives up to the Adirondacks, but I've never seen them on hikes and certainly never during any of my hunts up there.   So what I am missing here?
As I understand it (someone please correct me if I'm wrong), the general idea behind fall turkey hunting is to find a big group of them, break them and then hide out and ambush them as they regroup.  I've heard bringing a dog along to help with the break up is sometimes helpful.  I've heard calls are sometimes used as well, but they seem to be more relied upon in the spring season, when they aren't as grouped up.  
1) So where do I look for Turkeys, especially in an area as big as the ADK's?  I've spent some time going down old (no longer active) logging/hunting roads and trails.  Sometimes I head off the trail to move through some brush in an attempt to flush anything out of hiding.  
2) Is the weather and foliage optimal for fall turkey hunting?  I've noticed that the weather this time of year is a bit warmer than usual.  As well the foliage has only just now started to turn.  In fact, when I was moving through the woods today, a lot of the foliage was not only still on the trees but still very green, making it very hard to see very far in any direction.  With all the racket I make stepping on dead leaves, I feel like I'm bumping and scaring away any potential game well before I see them.  
3) Should I be using a Turkey call, even for the fall season?
4) Do Turkey like moving in the rain?  It's been fairly wet this weekend so far, almost a constant drizzle.  Is hunting for Turkey in the rain worth it?  I know some game species prefer to say put in rainy weather.
5) Is ambush or calling pretty much the only way to hunt Turkey?  I've heard that Turkey have amazing eyesight as well as hearing.  So head-to-toe camo and stealth seem to be essential.  I just have a hard time sitting still in some place like the ADK's.  It's a big area, and wildlife isn't nearly as abundant here as some people think it is.  If I don't pick the right spot, I could be doing a whole lot of sitting without seeing a single animal (I know from experience).  
 
Anyways, those are just a few questions/issues I was trying to work through.  I figure if some more experience Turkey hunters on this site offered some feedback, we might be able to get a helpful dialogue going for myself and other hunters new to Turkey.


Recently Browsing

0 members

No registered users viewing this page.